Product Information
xThunder is an extension managing popular downloaders and supporting special links for Firefox 3.5+
Features
1)Support special links of thunder, flashget, qqdl, ed2k, magnet, fs2you. Best support for Chinese link.
2)Support left and right mouse click, offline, selecting url text and batch downloading.
3)Integrate to save as dialog and use external downloaders easily.
4)Support Thunder, QQDownload, Flashget, BitComet, IDM, DTA, Orbit, FDM and customized downloaders.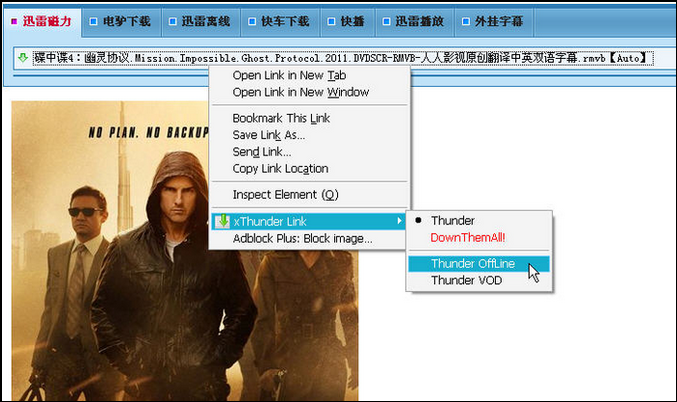 xThunder是调用迅雷/QQ旋风/快车等下载器的火狐3.5+的轻量级扩展
主要特性:
1)支持迅雷、快车、QQ旋风、电驴、磁力、飞速盘等专用链接解析,完美支持中文链接。
2)支持鼠标左右键下载、离线下载、划取URL文本下载、批量下载页面中链接和图片。
3)整合到保存方式对话框,方便地调用外部下载器。
4)支持软件迅雷、QQ旋风、快车、比特彗星、优蛋、网络传送带、IDM 、DTA、Orbit 、FDM和自定义下载器。