Product Information
Inspired by the lack of good cookie plugins, the great minds at WeKnowNet, behind popular add-ons like PowerZoom and EaseLink , decided to develop this extremely useful Chrome extension. It's light, simple and free!
 Eat My Cookies allows you to easily delete all of the cookies saved on your browser. It just takes one step!
Why go through the trouble of slogging through Chrome's settings to clear your cookies when you can just click our extension and get on with your life. Our extension is great for those who don't want websites saving your data or for those who regularly test websites.
Cookies are small files stored in your browser that save specific site setting or keep track of your activity on a given site. They are used for session management, personalization and tracking. For example, a cookie might save your shopping cart for future use on an e-commerce site, store your user preferences on a site where you are able to pick the color of the background image, and track your web browsing behavior.
Let's say you don't use our extension. In Chrome, you have to go through 4 steps, not to mention having to dig through advanced settings dialogs, just to delete browser cookies. In Firefox, it's not any easier. It takes at least 5 different clicks! Use Eat My Cookies and take back those clicks. Click the cookie icon.  Delete your cookies. Could it be any easier?
Features:
- Easy to install and use
- Compatible with Firefox and Chrome. Use PowerZoom on whatever browser you prefer
- One step deletion of of all of your cookies
- Unique design makes deleting cookies fun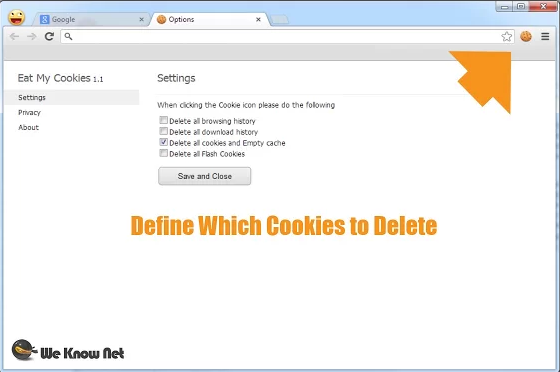 Managing and keeping track of your cookies shouldn't be a full time job and it shouldn't require a degree in computer science! Eliminates those pesky files in just one click!
———————————————————————————
Note: When you download our add-ons your browser will send a search query to our servers.
In order to continuously improve this extension and others, we collect certain anonymous data such of browsing history,trend statistics, and information on how our features are being used.
Details may be found in our privacy policy.